Ellen Lebitz & Reed Braden
Handcrafted Books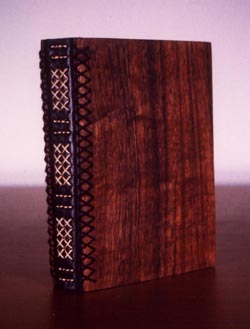 The finest quality books for both everyday use and special occasions
Our handcrafted books are created using fine papers and materials from around the world. The pages of our books are acid free, and most of our books have pages of 100% cotton.

Our books are sewn using twisted silk produced in Switzerland, an extremely strong material. The pages are sewn directly onto the covers through the spine, producing a book that is very sturdy and opens flat. The decorative sewings, besides being a structural component, are an important part of the overall design of the books.

Each book is a unique item, individually designed and constructed. We make hardcover books as well as books with leather or hardwood covers.