Frontpage
Microsoft Frontpage is a popular HTML editor. It is referred to as a WYSIWYG editor (
W
hat
Y
ou
S
ee
I
s
W
hat
Y
ou
G
et). This is because, as you develop your pages, you get to see what they look like. This is different from developing pages by hand, as you must know the HTML code to have the page displayed properly, and often requires that you view the page several times, to get the code right.
NOTE:
Generally you should wait until your domain name is resolving to our servers, before you attempt to publish with Frontpage.
This tutorial will illustrate how you can go about creating a simple page using Frontpage 2000.
NOTE:
The version of Frontpage extensions available on the server currently do not support Frontpage 98. We are not sure if the extensions ever will again. We believe Microsoft has dropped support for Frontpage 98 in their latest extensions package. Because of this, if you are having trouble connecting with Frontpage 98, try upgrading to Frontpage 2000 or newer.
To create a page in Frontpage, click on
File
-->
New
. This will bring up a blank page. Type something on this page, such as
This is a simple page
. Now click on
File
-->
Save As
and name the file. Be sure to give the file a .html extension. If you want the file to be your main file, the page that is displayed when someone visits
yourdomain.com
, name the file
index.html
.
Now you will need to publish the page to your site, click on
File
-->
Publish Web
.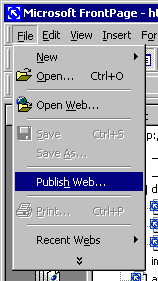 You should see a dialog box similiar to: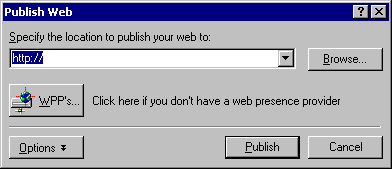 Click on the
Options
button.
In box below Specify the location to publish your site to: enter the full URL for your site. If this is the first time you are publishing your site, select
Publish all pages, overwriting any already on the destination
. Also check the
Include subwebs
checkbox. Your dialog box should look similar to: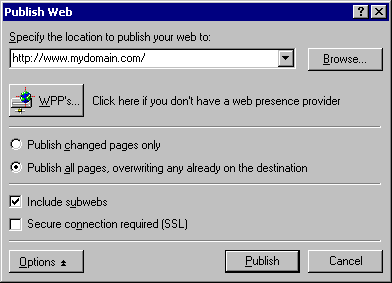 Click on the
Publish
button. You will be prompted to enter your username and password.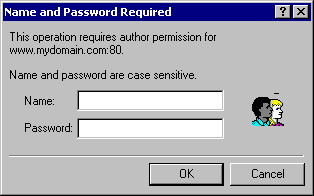 This is the same username and password you use to access the Control Panel portion of your website. Frontpage will begin publishing your site.
After Frontpage is done publishing your site, you should see a dialog similar to: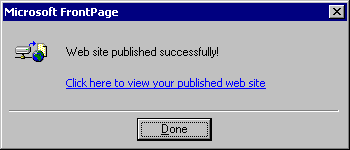 You should be able to go to your website and see the new page you published.
If you have any server-related problems, you can contact
us. If you have any problems with Frontpage, you will need to contact
Microsoft
.